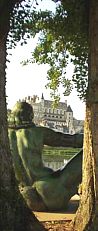 Halfway between Tours and Blois, Amboise opens its doors to you on multiple places of interest such as:



The royal "renaissance" castle of François 1st whose visit ends in the big "Heurtault" tower in front of Café des Arts.


To four hundreds meters the "Clos Lucé", last abode of Léonard de Vinci, awaits you, then you will be able to admire some of the marvellous inventions of the genius of the "renaissance" as well as the thematic park which surrounds it .


Road of Chenonceaux, the park of the mini-castles where you will be able to admire the wonders of the valley of the kings from an unequalled point of view .


The pagoda of Chanteloup, an exceptional architectural work .


The exposure of the glass-blower .


The aquarium of Touraine specialist in fresh water fish.

Amboise, they are also exceptional estival appointments like :


The "festival des courants".


The Brass-Bands festival.


Night markets.